What is Art if not the manifestation of our feelings, emotions, and also, why not, worries? Art makes us feel part of the world, allows us to share the multiplicity of our emotions, involves us and this unites us to each other.
The debate on climate change
In recent years the debate has been heated, certainly especially aimed at those threats that are attributable to climate change. Thanks to the young people (think of the young activist Greta Thunberg or the Fridays for Future) the climate issue is now not only on the pages of all newspapers and in political debates, but is also addressed in the speeches of ordinary people. Nobody can ignore that pointing finger anymore, nor can they plug their ears in front of what young people shout, in front of their worries for the future. A cry of indignation towards the indifference and inertia of those who, for their own gain, are not interested in the fate of entire populations or in the extinction of many animal species.
We must not forget, however, that in the cry of these young people there is not only anger but above all solutions, sustainable development goals and a search for a new way of speaking. For a long time, the overexposure of troubling news about all the disasters associated with global warming has pushed us towards passive individualism and a sense of helplessness. And this is precisely what we must avoid! The urgency is, then, to find new ways of communication. and this is where art comes to our aid. As an artist, I too feel the responsibility to address the subject in my work. Perhaps with my art I can make people more aware, and thus contribute, in my small way, to a more sustainable future.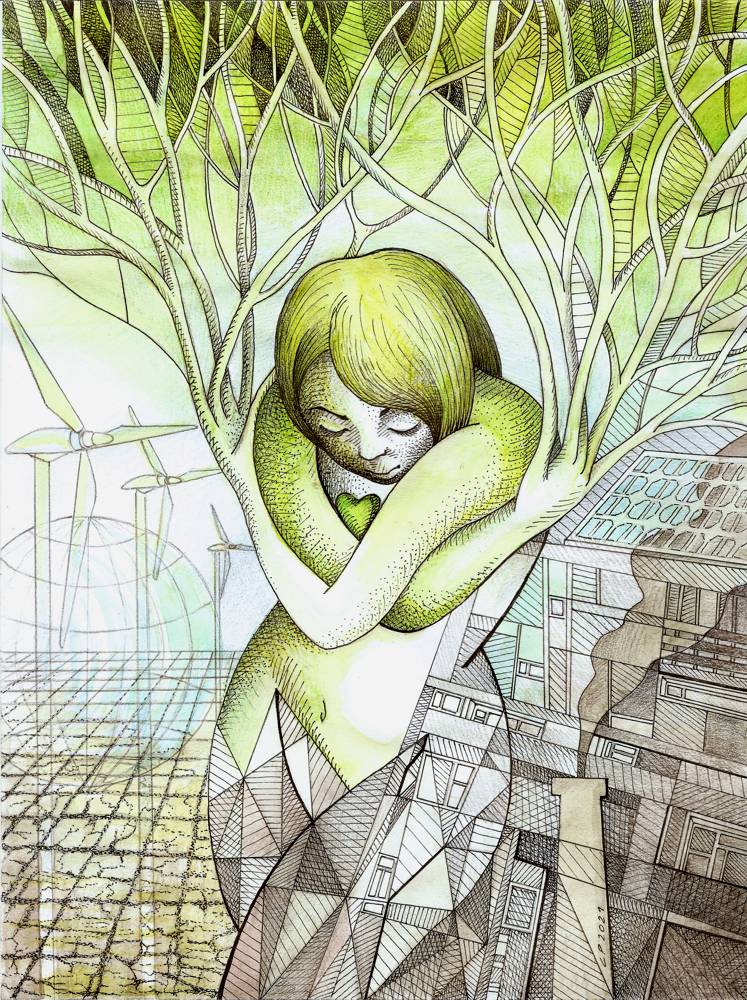 Nature 08 – Hope for Nature.
21 x 28 cm. Watercolor, pencil and ink on paper.
A step forward is to make sure that the sustainable development goals are aimed at everyone.
We all have to contribute, each according to their abilities, we can also make a difference in our daily life, but we must also not forget that no one is left behind.
This is what I wanted to represent in my work, a hope for a better future.

STEP 1 pencils – STEP 2 watercolor – STEP 3 ink
The work that I present in this article was made to participate at the Contest by Altro Spazio D'arte ART FOR FUTURE, to which I joined very gladly. It is wonderful to observe how many artists have wanted to express, through their work, their vision of what is happening in the world.
I'll be happy to hear your opinions, share and comment me on social networks, or write me an email to info@piccoloclaudia.com, see you soon,
Claudia
Leggi la versione in italiano: Arte e cambiamento climatico